Ambassador Sergio Piazzi
Secretary General of the Parliamentary Assembly of the Mediterranean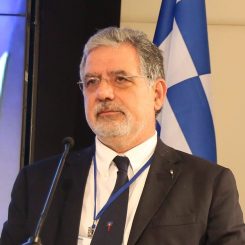 Alumnus of the Nunziatella Military High School of Naples, Italy, he holds an Honors
Doctorate Degree in International Political Sciences (Naples), a Master's Degree in Economics and Foreign Trade (Rome), and a Crisis Management Certificate (University of Wisconsin, USA).He attended the Italian Diplomatic Academy.
Amb. Piazzi started his career as Political Officer at the US State Department, and then joined through the Italian Ministry of Foreign Affairs the United Nations, where he coordinated UN operations in Eritrea, Tigray and Northern Ethiopia. Subsequently, he conceived and managed the UN Programme on the use of international Military and Civil Defense Assets in crisis operations. He served as Head of the UNDHA Regional Desk for Europe and former USSR, and Chief UNOCHA's External Affairs. As UN Senior Adviser on European Affairs, he was inter-alia responsible for policy cooperation with the Council of the EU, the European Commission, NATO, the Arab League, G77, G8, OIC, CoE and OSCE, and their Parliamentary Assemblies. He assisted a number of countries in finalizing their PfP agreements with NATO.
During his career, he served also, among others, as UN Representative in Romania (1989- 90), UNDRO Delegate in the Persian Gulf Region and Political Assistant to USG Martti Ahtisaari (1990); Policy Adviser to the Special Representative of the UNSG in Iraq (1991- 92) and UNRepresentative in Goma and to French Military Operation Turquoise in Rwanda (1994). He also operated, inter alia, in Algeria, Moldova, Morocco, Senegal and Tajikistan. He launched UN/NATO cooperation and negotiated the EU/UN protocol on cooperation in crisis management. In 2005, NATO selected him for the post of D.ASG Operations.
The Parliamentary Assembly of the Mediterranean (PAM), in 2008, elected him to establish and direct its Secretariat, and lead the strategic planning for the Assembly. He undertook, at the request of the EU and the UN, peace- support and confidence-building PAM/UN missions to, among others, Syria, Libya, the Balkans, Israel, Palestine, Iran and Russian Federation and Yemen. He advises the UN Security Council Counter Terrorism Committee and UN CTC on adaption of national legislations to counter effectively ISIL and Foreign Terrorist Fighters.
Amb. Piazzi is an Italian national. In 2016, the President of the Republic awarded him with the highest-ranking national award – Commendatore to the Order of Merit of the Italian Republic.