Angeliki Gypaki
Journalist, Eletheros Typos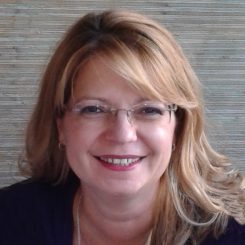 Ms. Angeliki Gypaki is a journalist and elected Vice President of the Journalists 'Union of Athens Daily Newspapers (JUADN- ESIEA).
She was economics and environment affairs editor in political and economic newspapers of Athens (Eleftheros, Apogevmatini, Isotimia, etc.); she served as director of periodicals of Apogevmatini and the Editor-in-Chief of the ecological magazine Apogevmatini, "A Perivalon". 
She headed the Press office of the General Secretariat for Youth and Olympic Airlines. In addition she has served as Press Officer at the Ministry of Transport and Communications. Currently she is in charge of the Press Office of the Greek National Tourism Organization (GNTO/EOT).
Ms Gypaki founded the website www.ecozen.gr  one of the bigger website in Greece dedicated to matters of ecology, the environment and sustainable economy, operating continuously from 2013 until today.
She was awarded the special Environmental Award by the Foundation for the Promotion of Journalism "Athanassiou Botsi" in 2010. In addition, she was honored twice with the Ecological Sensitivity Awards ECOPOLIS: once in 2009 for the magazine "A Perivalon- A Environment" and again in 2015 for the site www.ecozen.gr.
Ms. Gypaki has been active in Journalist Union affairs for the last 8 years; she was elected to numerous trade union bodies of JUADN /ESIEA: Member and Special Secretary of the Board of ESIEA, Member of the Board of the Educational Foundation of ESIEA, President of the Primary Disciplinary Council of ESIEA. Since 2019, she has been the Second Vice President of the Union.
She is a graduate of the Law School of Athens, Department of Political Science and Public Administration, specializing in Mass Media and Political Communication.