Angelos Syrigos
Deputy Minister of Education and Religious Affairs, Hellenic Republic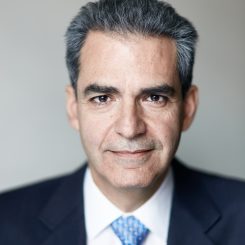 He was born in 1966 in Athens. He is a graduate of the Law Schools of the National University of Athens and of the University of Bristol, England where in 1994 he was conferred the degree of Doctor of Philosophy (PhD) in the field of public international law.
He has worked as Research Fellow at the University of Cambridge (1993-1994), as Legal Expert to the Council of Europe and as member of the Law Bar of Athens and practicing lawyer in Athens.
He has served as Secretary General of Population and Social Cohesion of the Greek Ministry of Interior (August 2012 and May 2015) and Secretary for Intercultural Education and Greek Studies Abroad of the Greek Ministry of National Education and Religious Affairs (2007-2009).
He has served in positions of high management responsibility for foreign policy issues on minorities, transparency and telecommunications.
He was awarded in 1992 by the Academy of Athens for his work on the delimitation of the continental shelf.
During his military service, he was honored with Praise by the 4th Corps in Thrace for services to the minority of Thrace and with Honorable Mention by the Army General Staff for his contribution to the creation of the Pomak-Greek dictionary.
He has published books on Greek-Turkish relations, the Cyprus issue, the Prespa Agreement.
On July 7, 2019 he was elected as a Member of the Hellenic Parliament.
He was sworn in as Deputy Minister of Education and Religions in charge of higher education issues on January 5, 2021.
He has served as a member of the Standing Parliamentary Committee on National Defense and Foreign Affairs, the Special Standing Committee on European Affairs, as well as the Greek Delegation to the Organization for Security and Co-operation in Europe Parliamentary Assembly (OSCE PA).
He is married to Irini Stamatoudi and they have three children.