Anna Diamantopoulou
President, To DIKTIO; fmr EU Commissioner; fmr. Minister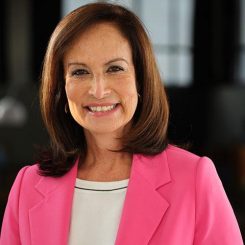 Anna Diamantopoulou is a Greek politician and public figure who has led a distinguished career in public service in Greece and in Europe. Currently Greece's candidate for the post of OECD's Secretary General, Ms. Diamantopoulou was a European Commissioner for Employment, Social Affairs and Equal Opportunities, and has held several significant portfolios as a Minister in the Greek government as well. She was Minister of Development, Competitiveness and Shipping, and, prior to that, Minister of Education, Research and Technology, and Lifelong learning.
She is currently the President of DIKTIO – Network for Reform in Greece and Europe, a leading independent, non-partisan, Athens-based think tank, which she founded in 2013.
Ms. Diamantopoulou is actively involved in international think tanks and not-for-profit organisations. She is a member of the Board of Trustees of the Brussels-based think tank friends of Europe, a Council member of the European Council on foreign relations (ECFR), and a member of the Scientific Council of the foundation for European Progressive Studies (FEPS). She sits on the Advisory Board of the Delphi Economic forum and of the Bussola Institute, a Brussels-based platform for independent research and dialogue between Gulf Countries and Europe.
Anna also sits on corporate boards, including the Board of Directors of Coca Cola HBC, an FTSE 100 company.
Anna was Fisher Family Fellow at Harvard Kennedy School, Distinguished Scholar at Singapore's Lee Kuan School of Public Policy as well as Richard von Weizsäcker Fellow at the Robert Bosch Stiftung. She has received multiple awards and decorations, such as the French Legion of Honour. She holds MA degrees in Civil Engineering and Regional Development from the universities of Athens and Thessaloniki.