Athanasios Ellis
Editor in Chief of Kathimerini English Edition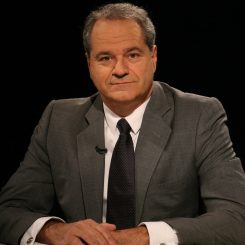 Athanasios Ellis is Editor in Chief of Kathimerini English Edition which is published in Greece and Cyprus along with the New York Times as a single paper.
 A former longtime Washington bureau chief for Kathimerini as well as other media outlets, he has interviewed numerous foreign leaders and heads of international institutions, among them Joe Biden (US), Emmanuel Macron and Nikolas Sarkozy (France), Recep Tayip Erdogan, Abdullah Gul and Ahmet Davutoglu (Turkey), Jean-Claude Junker and Jose Manuel Barroso (EC), Kristalina Georgieva, Christine Lagarde and Dominique Strauss Khan (IMF).
 As an international correspondent he has reported from various foreign capitals, including Washington, Beijing, Tokyo, Brussels, Berlin, London, Paris, Rome, Vienna, Ankara and Cairo.
 He has appeared on international media to analyze issues relating to Greece, from national elections and the economic crisis to relations with Turkey.
 He holds a B.A. from Boston University in Economics and Political Science, and a M.A. from B.U. in International Relations.