Athina Chatzipetrou
CEO and President of the Board of Directors of the Hellenic Development Bank SA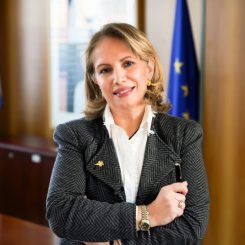 She has more than 25 years in corporate positions and  diverse experiences in numerous assignments on different business sectors, up to the highest level of interactions with counter parties. 
She has held, among others, the Group CFO role of Toyota Hellas, the Financial Director role at Beiersdorf Hellas and at Coca Cola Hellas. 
Her experience as Advisor include:
Advisor at the United Nations Economic Commission for Europe (UNECE)

Resident advisor at the Netherlands enterprise agency (RVO)

Special Advisor to the Minister of Development and Competitiveness 
Recently she has served as a President of the BoD and CEO of the Archaeological Resources Fund.
Academically, she holds a BSc in Business Administration from Athens University of Economics and Business, a MSc in Operational Research from the University of Athens and a MA in Heritage Management from the University of Kent. 
She is fluent in English, French and German.