Christos Kavalopoulos
General Director, Greek Mining Enterprises Association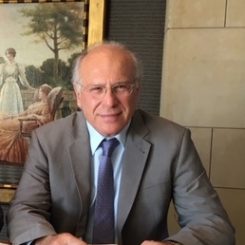 Mr. Kavalopoulos is a graduate of the National Technical University of Athens – School of Mining and Metallurgical Engineering.
From 1981 until 1997, he worked at the Mining Company of Delphi – Distomo (subsidiary of Aluminium of Greece), as engineer, responsible for the underground and surface work sites, responsible for the R&D office.
In 1998 he took over as General Manager of Operations of the Hellenic Post, a position he took after evaluation under law 2414/96.
Until September 2000 he was responsible for the operation of the entire postal network.
In 2001 he took over as General Manager of the SABO group having the responsibility of 4 separate companies that specializes in the design and construction of production lines of products such as special construction projects.
In 2002 he deals with construction companies and from various positions of responsibility.
In 2003, until his assumption of duties in the Association of Mining Companies, he was the technical director of the marble quarries of Dionyssos Pentelis.
From 2003 until today, he has the duties of the General Manager of the Association of Mining Companies, with the responsibility of operating the working groups of the Association, the implementation of the decisions of the Board, the presentation of positions on issues concerning the industry, participation in various communication actions representing the Association, the organization of events promoting the Association and finally the representation of the Association in Public Administration and together with the presidency, in the political leadership.