Christos Konstas
Financial Editor at Ethos Media & liberal.gr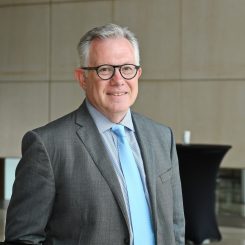 With a twenty-eight-year career in financial journalism, Christos Konstas is currently the financial commentator for Blue Sky TV News Programs. He is also Editor in Chief for all Ethos Media Publications (i.e. www.banks.com.gr, www.nplconfidential.com.gr, www.insuranceworld.gr, XPHMA (The Money) and Insurance World monthly reviews etc)
 Born in Thessaloniki in December 1961,
      He went to high school in Michigan USA, as an exchange student. 
      He received his first degree, with excellent mention in Political Science, in 1983, at the Panteion University of Athens. 
      He completed his three-year post-graduate studies in International Relations in 1986, at Peking University in Beijing, PR of China.
      He specialised in money and capital markets, taking courses and seminars in Athens, Frankfurt and New York.
 Christos Konstas has worked for numerous newspapers and radio and TV stations (Ependytis, Exousia, Planet 1045, Star TV, MegaTV, Alpha TV, Alter TV). He was honoured with the Botsi Award for promoting Journalism in Greece in 2005. 
He speaks English, French, and Chinese