Christos Staikouras
Minister of Finance, Hellenic Republic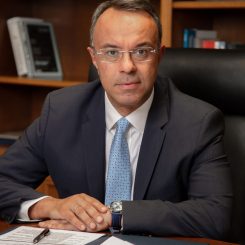 He was born in Lamia, Fthiotida, on 1973. 
He was elected MP in Fthiotida with Nea Demokratia political party on the election of 2007, 2009, 2012 (May and June), 2015 (January and September) and July 2019. 
From October 2009 until June 2012 he was Deputy Head of the Economic Policy Sector of Nea Demokratia.
From June 2012 he was appointed as Alternate Minister of Finance, and held his position until the election of January 2015.
From February 2015 until June 2019 he was the Head of ND Economic Policy Sector.
From July 2019 he was appointed as Minister of Finance.
He holds a degree in Mechanical Engineering from the National Technical University of Athens (NTUA), a Master in Business Administration (MBA) from the Management School, Imperial College of Science, Technology and Medicine, University of London, and a Doctor's degree (PhD in Banking) from the Department of Banking and Finance, Cass Business School, City University. 
He is Associate Professor in Finance at the Athens University of Economics and Business. 
He was part time academic staff at the Hellenic Open University (2004-2007), Assistant at the Athens University of Economics and Business (2006 – 2019), Visiting Professor at the Universities of Thessaly, Athens, City and European University Cyprus.
He has worked at the Central Bank of England and the Eurobank Group.
He has published over 50 research papers in international refereed scientific journals, books and monographs and he has also participated in many scientific international conferences.
He is member of scientific and research societies and organizations.