Dimitris C. Gkikas
Researcher at University of Patras & Digital Marketing Director at OWEB Digital Experience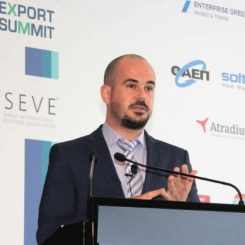 Dimitris C. Gkikas is a professional IT Engineer. He is a researcher at the Department of Business Administration of Food and Agricultural Enterprises of the University of Patras and a Digital Marketing Director at OWEB Digital Experience.
His studies include a BSc in Informatics Engineering, a MSc in Computer Science, a MSc in e-Business and Digital Marketing and his PhD focuses on Artificial Intelligence and Marketing Research.
His research interest lies primarily in the areas of Artificial Intelligence, Digital Strategy, Machine Learning, Data Mining and Consumer Behavior. He has published refereed papers on Data Mining, Machine Learning, Consumer Behavior, Social Media Analytics, Chatbots, Customer Analytics and Information Systems in International Conferences, Congresses, and Journals.