Dimitris Kafantaris
Secretary General of the Central Union of Municipalities of Greece (KEDE)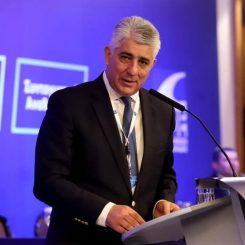 Dimitris Kafantaris was born in 1967 in a small village in the historic Municipality of Pylos-Nestoros. 
He started his course in local government course very early, making his first small "step" at the age of just 27, the youngest, then Messinia's Prefectural Councilor.
He served as Prefectural Councilor and Deputy Mayor of Messinia  from 1995 to 2010, and he was also Mayor of Pylos-Nestoros in the periods 2011-2014 and 2014-2019.
He was also the First Vice President of K.E.D.E. in the period 2014-2019 and today he is General Secretary of K.E.D.E.
He participates, representing  the Local Government, in the World Council of United Cities and Local Governments (UCLG) as well as in the European Council of Municipalities and Regions (CEMR) from 2014 until today.
Within the framework of his duties ,he participates in many working groups, committees, and conferences. 
An important course in local government of several years, which unreservedly gives him the status of an experienced executive in local government!
He is married and the father of a daughter and a son.