Efstathios P. Efstathopoulos
Vice President, Administrative, Academic & Student Affairs, Hellenic Open University, Professor of Medical Physics, University of Athens (NKUA)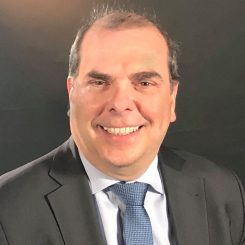 He was born in 1965 in Piraeus. He studied Physics at the University of Patras (1988), and Medical Physics at the University of Surrey in England (M.Sc. in Medical Physics, 1989). He completed his PhD in Medical Physics (2002) at the University of Patras.
In 1991 he was granted the license to practice the profession of Medical Physicist in Greece, after examinations at the Ministry of Health. He is currently a member of the national examination committee of the Ministry of Health for the nomination of professional licence for Medical Physicists.
He worked first at the Medical Diagnostic Center of Piraeus «Hippocrates» and then at the Onassis Cardiac Surgery Center for 10 years.
In 2003 he was elected Lecturer in the School of Medicine and was placed in the 2nd Department of Radiology, at "Atticon" General University Hospital in Chaidari, Athens, while in 2016 he was elected to the rank of Professor. 
He provides clinical work at "Attikon" University General Hospital where he is the Radiation Protection Expert for Radiology and Nuclear Medicine.
He teaches Medical Physics, Radiation Protection and Principles of Nanomedicine, at undergraduate and postgraduate level. 
His research focuses on x-ray dosimetry of patients and staff and quantification of carcinogenic risk, imaging of the cardiovascular system, detection of vulnerable atherosclerotic plaque, and applications of nanotechnology to health. He has published (with his collaborators) more than 130 original papers in international scientific journals, which have received more than 3200 citations in international litterature (https://scholar.google.com/citations?hl=en&user=xt9Uy7gAAAAJ). He has authored four chapters in scientific books. He has presented more than 100 papers in scientific conferences and delivered more than 60 invited lectures in Greek and international scientific conferences.
In 2018 he designed and organized in collaboration with Professor K. Demetzos from the Department of Pharmacy and Associate Professor Professor M. Gazouli from School of Medicine, a new Postgraduate Program in "Nanomedicine", in which he is the Director and Chairman of the Special Interdepartmental Committee. This program is the only one in Greece to date in this field.
He is a founding member and President of the Hellenic Society of Nanotechnology in Health Sciences (HSnanoHS, www.hsnanohs.eu). He is a member of the Radiation Protection Committee of the European Society of Cardiovascular and Interventional Radiology (CIRSE). He is also a member of the following scientific societies: European Society of Cardiovascular and Interventional Radiology (CIRSE, www.cirse.org), European Radiological Society (ECR), Hellenic Society of Medical Physicists (www.efie.gr), Hellenic Society of Interventional Radiology, Hellenic Society of Physicists.
He has been a chess athlete since 1979 and President of the Hellenic Chess Federation.
Since September 2019 he is Vice President of Administrative Affairs, Academic Affairs and Student Affairs at the Hellenic Open University (HOU).