Eleni Marianou
Secretary General of the Conference of Peripheral Maritime Regions (CPMR)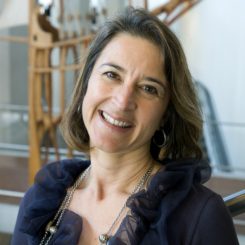 Eleni Marianou is the Secretary General of the Conference of Peripheral Maritime Regions (CPMR). A Greek national and a multilingual barrister specialised in International and European law.
She has extensive knowledge on European Affairs, grass roots experience and wide working practice with local and regional authorities at the European level.
She worked as European Community Liaison Officer at the Central Union of Greek Municipalities and Cities, then as Cities Networks Manager at the Council of European Municipalities and Regions and finally as Policy Director in Eurocities. Between 2001 and 2009 she ran the South West of England Brussels Office as its Director responsible for coordinating and ensuring strategic development of the region in Brussels and beyond.
Ms Marianou has been active in Brussels for over 20 years. She is currently elected Secretary General of the CPMR and has been managing a growing team of 40 staff members based in the three CPMR premises in Rennes, Brussels and Barcelona. In office since 2010, she is responsible for advising and directing policy development and strategic leadership in the areas of territorial cohesion, EU governance, balanced competitiveness, maritime policy and sustainable development.