Elona Gjebrea Hoxha
Member, Organization for Security and Co-operation in Europe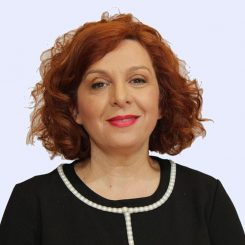 She studied Biology at the Faculty of Natural Sciences in Tirana University and  holds a master degree in Aerobiology from Faculty of Natural Sciences and a PhD from Worcester University in cooperation with Coventry University in the United Kingdom. She has published numerous research articles and participated in many international conferences. Mrs. Gjebrea received awards for her scientific dedication and achievements.
She has been a member of the Albanian Parliament for the Socialist Party since 2017. She is a member of the Parliamentary Committee on National Security and Committee of Foreign Affairs.
With a background in academia and civil society, in 2013 she became Deputy Minister of Internal Affairs and National Anti-Trafficking Coordinator, a position she held until 2017.
Elona Gjebrea Hoxha is a member of Albanian delegation in the OSCE PA AND was elected Rapporteur at the 2018 Annual Session in Berlin and re-elected at the 2019 Annual Session in Luxembourg
February 2020 she has been elected as Head of the OSCE PA Delegation in the observation mission in Azerbaijan  October 2020 she has been elected as OSCE Special Co-ordinator and leader of the short-term OSCE election mission in Georgia. 
She was also Municipality councillor of Tirana city, representing the socialist party from 2015 to 2017. In 2016 she was part of the General Assembly of the Socialist Party.