Fanis Spanos
Regional Governor of the Region of Central Greece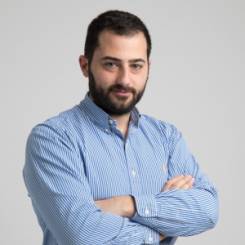 After graduating from Athens College, he studied Civil Engineering at the Democritus University of Thrace, specializing in Hydraulics (M.Int.). He earned a master degree (MBA) at ALBA Graduate Business School and another in International and European Studies at the State University of Athens. In addition to Greek, he also speaks English and German.
He worked in his family business that specializes in construction and ready-mixed concrete, as an engineer from 2008 to 2010, and since 2011 as CEO of the company.
In 2010 he was first elected and served as a Municipal Councilor of the Municipality of Chalkida and as a vice Mayor of Finance, Urban Planning and Traffic Regulations. Also, served as a President of the municipal corporation for local property and chaired the municipal committee of secondary education school unit.
In May 2014, he was elected as a Deputy Regional Governor of Central Greece (regional unit of Evia) with the political scheme of Kostas Bakoyannis and 5 years later, in June 2019, Fanis Spanos was elected as Governor of the Region of Central Greece (Sterea Ellada).
Fanis Spanos was born in Chalkida (Greece) in 1984 and is married to Maria Anastasiou, a teacher and they have got three children.