Fokion Zaimis
Deputy Governor of Entrepreneurship Research & Innovation Region of Western Greece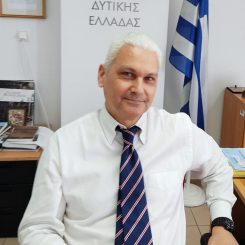 Fokion A. Zaimis was elected Regional Councilor of Achaia in the elections of 2019 with the Head of the Region's, Nektarios Farmakis, political group "Ola apo tin arxi" and was appointed Deputy Governor of Entrepreneurship Research and Innovation of Region of Western Greece. He is the Vice-President of the IMC and member of the BBSC of the CPMR.
He holds a M.Sc. from the University of Patras, Department of Geology, Greece and attended Athens University of Economics and Business MBA program for one year. 
He is the President of the Board of Directors and one of the founding partners of iForce Communications, S.A. (www.iforce.gr) in Athens. Prior, he was for more than five years the General Manager of the Federation of Hellenic Information and Communications Technology Enterprises – S.E.P.E. (www.sepe.gr). He is also a Founding Member and General Secretary of the Institute of Development of Western Greece (www.inade.gr).
He was an IT Advisor to the Mayor of Athens and member of the Board of Directors of the IT Company of the City of Athens www.daem.gr, a Member of the Board of Directors of the Union of Correspondents of Greek Press Abroad, a Member of the Geotechnical Chamber of Greece, a member of the Hellenic Society for the Preservation of the Hellenic Culture and Environment www.ellinikietairia.gr, responsible for the Marketing Department for Talos Engineering S.A.
He lobbied successfully for bringing the World Congress on Information Technology to Athens, Greece – W.C.I.T. 2004 Athens. Additionally, his professional experience includes work with European Commission – Directorate General XVII and being Head of the Department of European Affairs of DRM International S.A.
He is the writer of many articles in magazines and newspapers mainly for the new economy and cultural issues. He has coordinated more than 150 events and conferences mainly on financial, social, environmental and cultural issues. He is fluent in Greek, English and French.