Georgia Manolopoulou
Board Member of Diazoma, MC Europeana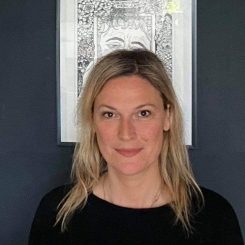 Georgia Manolopoulou is a PhD Cand. In Cultural Diplomacy, Department of Political Science and International Relationships at the University of Peloponnese. She has studied in the Faculty of Philosophy at the University of Athens and she is actively engaged in Cultural Management through her work experience in the Ministry of Culture and via a Master Course followed at the University of Athens in Interdisciplinary Graduate Program "Museum Studies" with the collaboration of Department of History and Archaeology and Department of Conservation of Cultural Heritage. 
She is an owner of Scholarship IKY / Grundtvig European Program at the University of Manchester Museum and a Fellow of NEON Curatorial Program in London. 
During the last ten years she has been working at the Hellenic Ministry of Culture and Sports as a museologist, curator of Public Programs at the Archaeological Museum of Patras. 
She is an author of published international papers and articles in conferences related to Cultural Management and Diplomacy while she has participated as scientific member in European projects. She is an elected Boarding member DIAZOMA and Council Member of ENA Europeana, a member of ICOM-International Council of Museums. In 2018 she has received the Award for "Person in Culture".