Gianna Angelopoulos-Daskalaki
President of Committee "Greece 2021"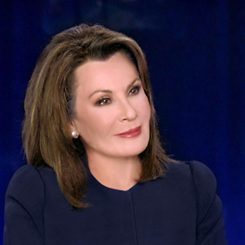 Gianna Angelopoulos-Daskalaki is a lawyer, former parliamentarian, ambassador of the Greek state, and best-selling author.
In 1986, Ambassador Angelopoulos was elected to the Athens Municipal Council. In 1989, she was elected to the Greek Parliament and won re-election the following year. Following her marriage to Theodore Angelopoulos, Gianna resigned her seat in the Parliament to focus on family and business.
In 1996, Costas Simitis, the Prime Minister of Greece at the time, appointed her to lead the country's successful campaign to host the 2004 Olympic Games. In 2000, when slow progress and gridlocked bureaucracy put Athens in danger of losing the Games, she was asked to assume the Presidency of the Athens 2004 Organizing Committee and save the project.
Her memoir, My Greek Drama, was published by Greenleaf Book Group in May 2013, and became a top ten New York Times and Wall Street Journal bestseller.
At Harvard, Ms Angelopoulos has served as vice-chairman of the Dean's Council of Harvard's Kennedy School of Government since 1994 and now also serves as a member of the Advisory Board of the Center for Business and Government. In 2011, she established the Angelopoulos Global Public Leaders Program at the HKS to bring distinguished leaders to Harvard in order to interact with students, share lessons learned and reflect upon the next phase of their public service. President Felipe Calderon of Mexico, President Tarja Halonen of Finland, President and Nobel Laureate Juan Manuel Santos of Colombia and Secretary General Ban Ki-Moon of the U.N have participated in the program to date.
In October 2019, she established the Gianna Angelopoulos Programme for Science Technology and Innovation at Cambridge University, which nurtures exceptionally talented early-career scientists, from postgraduate study and research to the successful commercialisation of their ideas, through a structured training and research programme enhanced by industrial collaboration and entrepreneurial activities. 
In 2019, Greece's Prime Minister Kyriakos Mitsotakis appointed her as President of the "Greece 2021" Committee for the celebrations of the 200 years since the Greek Revolution and the birth of the modern Greek state.
Ms Angelopoulos is also the founder and sponsor of the Angelopoulos CGIU Fellowship Program (100 young Greek entrepreneurs have benefited), a leading philanthropist for projects in Greece and around the globe. She is a proud mother of three grown children and also has three granddaughters.