Giannis Oikonomou
Deputy Minister for the Common Agricultural Policy, Hellenic Republic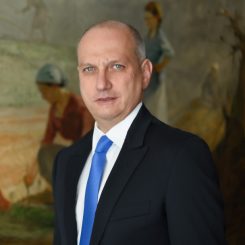 Giannis Oikonomou was born in Lamia, Fthiotida, on September 1973.  He is married to Angelic Zorbala and has a son, Dimitris.
He is a graduate of the Agricultural University of Athens and received his degree in Agriculture from the Department of Crop Production. he also holds a master's degree in Global Political Economy from the University of Peloponnese. He works as Agronomist and he is active in the marketing and production of dairy products. 
In the general elections on 7th July 2019 he was elected Member of the Greek Parliament for the Constituency of Fthiotida with Nea Dimokratia (ND). Since January 2021 he has taken over the duties of Deputy Minister of Rural Development, at the Ministry of Rural Development and Food, responsible for the Common Agricultural Policy(C.A.P.) 
It was served as a Member of the Standing Committee on Production and Trade and of the Special Standing Committee on Hellenic Dispersion, Member of Executive Committee of the ND and Member of the Political Committee of the ND.
From 2013 until 2015 he was Head of Athens Road Transport Company (OSY SA). Moreover, from 2006 until 2009 he was General Secretary of Consumer. He has also served as advisor to the President of ND Mr. Kyriakos Mitsotakis, 2017-2019, Secretary of Strategic Planning and Communication of ND, 2016-2017, President of ONNED, 1998-2001 and Secretary of DAP-NDFK, 1995-1998. 
He speaks English.