Giannis Politis
Journalist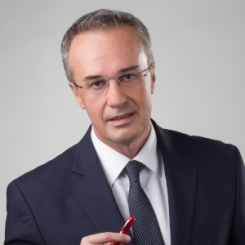 Giannis Politis is a journalist and has been a political analyst for three decades.
He teaches the course "Management of journalistic sources" at the department of Media at University of Athens. He started working at the newspaper TA NEA in 1984 where he was working for 28 years as a political analyst and columnist; he also managed the electronic version of the newspaper. In 1988 he became a member of the Athens Union of Journalists (ESIEA). He used to be a member of the first team of journalists of MEGA Channel where he had worked for 14 years as a political analyst, head of political news report and anchorman of information programs. For 9 years, he was a General Manager at the radio station "ATHENS 9,84" and at "Vima FM".
Today is a columnist at the newspaper "Real News" and a political analyst at the Real FM radio station. Since 2004, he has been working at the Public Television (previously known as ERT) as a political commentator at the main news broadcast of the channel and presenter of information programs. He also represents the International Organization EPLO (European Public Law Organization).
In 2003 he was awarded with the Botsi award for "the complete and objective presentation of his issues, his successes in several exclusives political reportage and for his decent presence on TV".
In 2010 was appointed Goodwill Ambassador of the Special Olympics of Athens.
Since September 2011 he has been a member of the Governing Board of TEI of Ionian Islands.
In 2013 was awarded unanimously by the Association of Mayors of Attica "for his objectivity in exercising his calling".
He was born in 1961 in Meganisi and studied Media at Queen Margaret University in Edinburgh. He is married to Maria Kostopoulos and they have two children, Lambros 12 years old and Sotiris 9 years old.