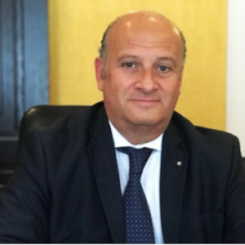 Gino Sabatini is the first President of the Marche Chamber of Commerce, born from the aggregation of the five provincial chambers of commerce, unanimously elected on 31 October 2018.
Since last May 8th Mr. Sabatini has been leading the Adriatic and Ionian Chambers of Commerce Forum, unanimously elected in Budva in Montenegro during the last General Assembly of the AIC Forum.
He is an entrepeneur, owner of the company Sagi operating in the construction and restoration sector, and President of the Regional CNA Marche and Vice-president of the Natational CNA (National Confederation of Craftsmanship and SMEs). He is a member of the National Executive Committee of Unioncamere – the Italian Union of Chambers of Commerce, Industry, Crafts and Agriculture – and has led the Ascoli Piceno Chamber of Commerce for 4 years.