Harrys Theoharis
Minister of Tourism, Hellenic Republic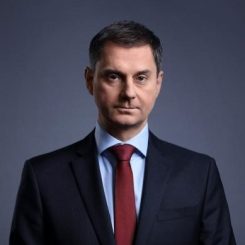 Born August 6, 1970, in Athens, Harry Theocharis is the current Minister of Tourism of Greece. Mr. Theocharis was first elected in 2015 and on December 18, 2018, he joined the New Democracy party.
He holds a MEng (Hon) in software engineering-first class from Imperial College, London, and has held high-ranking positions in companies of the private sector in Greece and abroad. He has also worked in start-up companies.
During 2011-2012, he served as secretary general for information systems and he is known for introducing new digital services to assist the public, helping reduce bureaucracy and its resulting costs.
He later (2013-14) served as a secretary general for public revenues at the Greek Finance Ministry. There, he succeeded in meeting budget revenues and producing a fiscal surplus. He is also known for launching the www.publicrevenue.gr platform to increase transparency in public administration.