Ioannis Politis
Journalist, Action 24, Greece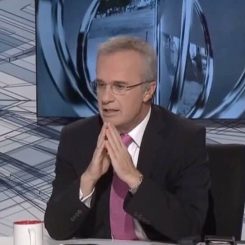 Ioannis Politis is a journalist and political analyst with more than 30 years of professional experience in major newspapers, radio stations and television channels. 
He worked for 28 years as a political columnist and head of its electronic edition for newspaper "TA NEA". He joined MEGA Channel since its start and worked for 14 years as a political editor, head of the Political Reporters team and news anchorman. He served as General Manager of Athens 9.84, City and Vima FM radio stations. He also worked for the Greek Public Television (ERT) as a political commentator in the Evening News and as News Magazine anchor.
Today he works as columnist for "REAL News" newspaper and anchors the X2 program in Action24 Channel. He is the editor of "Politisonline" site and a spokesman for the European Public Law Organization. An honorary professor, he teaches "Information Sources" at the UoA Department of Communication & Media Studies.
He is Ambassador of Special Olympics Hellas and of the Association of Social Responsibility for Children and Youth (SKEP). He won the annual journalism prize from the Botsis Foundation. 
He was born in 1961 in Meganisi, Lefkada. He has an MBA (East London University) and a BA in Communication & Mass Media (Queen Margaret University).