Jimmy Athanasopoulos
Chairman of Envolve Entrepreneurship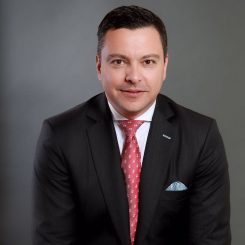 Following an MBA from Northeastern Illinois University, Jimmy began his career in Chicago as a provider of financial and investment services across various asset classes. He later undertook a variety of management roles at multinational corporations including DNV, Tyco Healthcare, and TetraPak before entering ship management as Chief Financial Controller with FreeSeas Inc. preparing statutory reports towards the SEC. He later joined G. Bros Maritime S.A. where he was responsible for financial reporting to the Board of Directors.
As Greece Representative of Libra Group's Social Responsibility, Jimmy Athanasopoulos is responsible for the Libra Social Responsibility programs. Jimmy joined the Libra Group, in 2012, as Director of the Hellenic Entrepreneurship Award (now Envolve Entrepreneurship), an award program for Greek start-up businesses funded and operated by the Libra Group. In 2015, he joined Libra's Executive Team as Head of Social Responsibility, providing strategic oversight of the group's global responsibility and education programs.
In 2016, Jimmy completed the Executive Education Program for Social Responsibility at Harvard Business School.
In 2019, he served as Interim Chief Financial Officer of EuroEnergy, Libra Group's energy company in Europe. At EuroEnergy, Jimmy managed the company's economic strategy and was responsible for financial reporting to partners.
Jimmy is Chairman of Envolve Entrepreneurship and sits on the Advisory Council of The American Community School in Athens. Jimmy is also a member of the Board of Trustees of the Hellenic American University and is an active part of the broader 'Elevate Greece' evaluation team.