Katerina Gagaki
Perception Management Specialist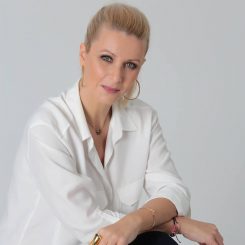 Katerina Gkagkaki is Vice – Mayor for Openness and Civic Society of the City of Athens, delegated with the exercise of responsibilities relevant to the promotion of the openness of the municipality, the development of the cooperation with Civic Society and the support of actions with social partners, groups, stakeholders and associations. 
She is a communications expert with specialized knowledge in Perception Management and Brand Image Building and many years of experience in Corporate Communication as senior executive in multinationals, Greek companies and non-profit organizations.
Most notably, she was Communications Manager in Vodafone for many years, whereas she was in charge, over a period of ten years, of the communication strategy of all the Antenna Group companies internationally. Then, she took over the communications guidance of the NGO "Apostoli".
Today, she is working as Chief Corporate Affairs Officer  at Barking Well Media and at the same time as Reputation Management Consultant in large corporations in Greece and Cyprus, and as Image Consultant for businessmen and mass media personalities. At the same time, she is a radio producer and columnist in websites. 
She was born in Mytilini, has studied Psychology and holds a master's degree in Social and Organizational Psychology from the London School of Economics and Political Science and in Perception Management from the New York University.