Kostas Katsafados
Deputy Minister of Maritime Affairs & Insular Policy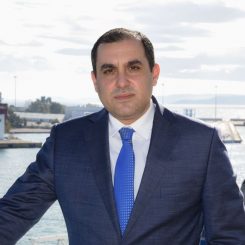 Kostas Katsafados was born on May 29, 1979, in Piraeus, of Mani and Karpathos descent. He is married to Nora Michaloliakou, and they have a daughter, Kalliopi-Anna.
He holds a BA in Finance from the University of Piraeus and anMA in MBA-Tourism Management.
He was the Head of DAP-NDFK at the University of Piraeus, and in 2007 was elected as Secretary of the Central Committee of ONNED. He served as Vice President of ONNED from 2010 to 2013.
In 2002, at the young age of 23, Costas Katsafados was elected as a local councelor at the Municipality of Keratsini.
In 2004 and for ten consecutive years, his fellow economists had consistently elected him as their representative at the Hellenic Chamber of Commerce (STA).
In 2006 he was elected prefectural councelor of Athens – Piraeus prefecture, receiving more than 25,000 votes.
In the National Εlections of 2012, Katsafados was elected for the first time Member of Parliamentfrom Piraeus A& Islands district. He was reelected in the next twoNational Elections of January and September 2015 respectively.
In 2016, Kyriakos Mitsotakis appointed him as Deputy Head in Environment & Energy sector of the "New Democracy" party.
In the National Elections of July 2019, he was reelected the first Member of Parliament in Piraeus A& Islands district and was appointed in the Committees of the Parliament.
On January 4, 2021, Prime Minister Kyriakos Mitsotakis, appointed him asUndersecretary of Shipping & Island Policy.