Louka T. Katseli
Professor of Economics at National and Kapodistrian University of Athens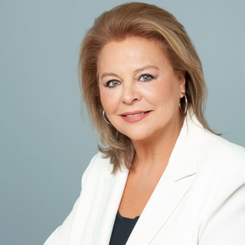 Louka T. Katseli is Professor Emeritus of the Department of Economics of the National Kapodistrian University of Athens, Chair of the Board of Directors of the National Bank of Greece in Cyprus, and CEO of the Rightholders Cooperative EDEM. She is also the Vice-President of the Executive Board of the African Capacity Building Foundation (ACBF), Co-chair (with Poul N. Rasmussen) of the Independent Commission for Sustainable Equalityof the S&D Group at the EU Parliament, a Research Associate of the Hellenic Observatory at LSE and a member of the Euro 50 Group .
She has served as Chair of the Board of Directors of the National Bank of Greece and  Chair of the Hellenic Banking Association (2015–2016). She was  Greece's Minister of Labour and Social Security (2010-2011) as well as Minister of Economy, Competitiveness and Shipping (2009-2010) and a  member of the Hellenic Parliament (2007-2012). Prior to her entry in Greek politics, she was Director of the OECD Development Centre in Paris (2003-2007), International Economic Advisor to the Greek Prime Minister (1993-1996) and Director General of the Center of Planning and Economic Research (KEPE) (1982-1986).
Prof. Katseli holds a Ph.D. (1978) in International and Development Economics from Princeton University and has served as Assistant and Associate Professor of Economics at Yale University's Department of Economics and the School of Organization and Management (1977-1985). She has published extensively in the areas of international and institutional economics and development.