Makis Voridis
Minister of Internal Affairs, Hellenic Republic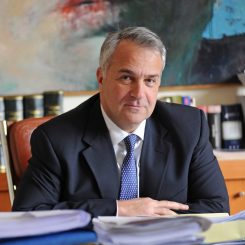 Makis Voridis was born in Athens in 1964. He graduated from Athens College and obtained a degree in Laws (LL.M.) from the University of Athens. He holds a Master of Law from the University College London (LCL), specialized in International Commercial Law. He is fluent both in English and French.
In 1992 he served in the Army, as a Cadet Reserve Officer of Artillery.
He has been practicing Law in Athens for the last 30 years. He is married to Danai Michelakou, pediatrician and they have two children.
In September 2007 he was elected for the first time as a member of Greek Parliament and is being re-elected until today.
In November 2011, he was appointed as Minister of Infrastructure, Transport and public transportation Networks, during the coalition Government of political parties PASOK-NEW DEMOCRACY-LAOS, under Prime Minister Loukas Papadimos.
From 2012 until 2014 he was the Parliamentary Representative of Political Party "New Democracy".
In June 2013 he was assigned as President of the Political Committee of the Parliamentary Assembly of Organization for Security and Co-operation in Europe (OSCE).
In June 2014 he was appointed Minister of Health by Prime Minister Antonios Samaras.
In January 2016, the President of political Party "New Democracy", appointed him as Divisional Director of Internal Affairs.
Ιn July 2017 he was elected President of the Special Committee on Countering Terrorism the Parliament Assembly of OSCE.
In July 7th 2019 he was appointed Minister of Rural Development and Food by Prime Minister Kyriakos Mitsotakis.
In January 5th 2021 he was appointed Minister of Internal Affairs by Prime Minister Kyriakos Mitsotakis.