Marios Themistocleous
Secretary General of Primary Health Care, Hellenic Republic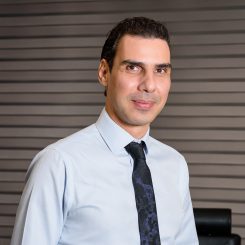 Marios Themistocleous is the General Secretary of the Primary Health Care at the Ministry of Health, responsible for the coordination and management of the National vaccination programme in Greece.
He graduated from the Medical School of the National and Kapodistrian University of Athens, has a Doctor of Philosophy degree from the Medical school of the National and Kapodistrian University of Athens, and a Master of Science in Health Management and Health Economics.
He has served as a Consultant Neurosurgeon at the Neurosurgery Department of "Agia Sofia" Childrens' Hospital of Athens.
Marios was the President of the National Central Health Procurement Authority, member of the Coordinating and Management Committee of the Government policy for the COVID-19 pandemic, Coordinator of the Special Advisory Committee of the Health Initiative Stavros Niarchos Foundation on behalf of the Presidency of the Government.
He has also been President of the Chief Committee of Health Sector Insurance Fund (TSAY) and Vice President on the Board of Directors of ETAA (Unified Fund of the Self Employed).