Melina Taprantzi
Social Entrepreneur / Founder of Wise Greece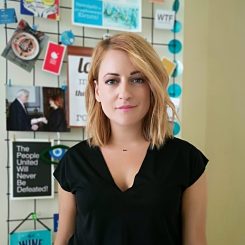 Her first degree may have been in Philosophy, but eventually it was the world of marketing and communication than won her over and for which she has worked for over 10 years, assisting many brands to become established and known. In 2020 she was one of the seven women globally who received the prestigious award SDGs and Her from the World Bank and the United Nations, for her work in the implementation of the Agenda 2030 for sustainable development.
She is the founder of "Wise Greece". A social enterprise that promotes top quality Greek products and uses the profits from sales in order to buy foods in bulk and donate them to soup kitchens, children, families and the elderly in need, hence essentially having 2 important missions; helping the small farmers and producers to grow and export their products and at the same time offering to unprivileged people their most basic need, food.
Today Wise Greece works with over 100 small producers who offer over 2.500 products; exports to 8 countries, has so far donated over 90 tons of food to orphanages, soup kitchens and charitable institutions, has received important awards, among which is the prestigious award from the President of the Greek Republic "Models of Excellence", as well as the Start Up award for sustainability and social contribution, the European Social Challenge Award 2018, the Innovative Fundraising Award by the British Council and the BeMed Award by the Prince Albert II of Monaco Foundation. 
Melina is a key note speaker at international seminars on social entrepreneurship, an Ambassador of the Think Young Entrepreneurship School, a TEDX Speaker, a BMW Foundation Responsible Leader, an IVLP Alumna in the program of Social Responsibility and Innovation funded by the US Department of State, a co-builder of the international World Human Forum, a Young Emerging Leader 2018 by the European-Australian Forum and a Young Innovative Leader 2019 (YTILI Fellow) by the German Marshall Fund and the US Department of State.