Miltiadis Varvitsiotis
Alternate Minister of Foreign Affairs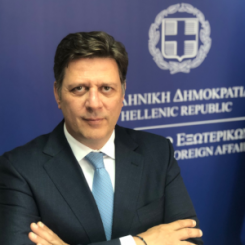 Miltiadis Varvitsiotis was born in Athens in 1969. He is a Supreme Court lawyer. He is a graduate of Athens College and the University of Athens Law School. He also holds a postgraduate degree in International Relations from Harvard University. He speaks English, French and Italian.
His political activity began in O.N.NE.D., the Youth Organization of the New Democracy Party.  
He was elected MP on the New Democracy ticket in the Athens B voting precinct in the elections of 2000, 2004, 2007, 2009, May and June 2012, and January and September 2015. In the 7 July 2019 elections, he was elected MP for the Athens B-West Athens voting precinct, with the highest number of votes.
He served as Deputy Minister of Foreign Affairs for economic diplomacy and development assistance from January 2009 to October of that year, when the government changed.  
He served as Minister for Shipping and the Aegean from June 2013 to January 2015.
From September 2007 to January 2009, and from July 2012 to June 2013, he served as Chairman of the Parliamentary Standing Committee on Defense and Foreign Affairs, and he has sat on many other Parliamentary Committees.
He has been a regular member of the Parliamentary Assembly of the Council of Europe since 2004.
On 9 October 2018 he was elected Vice President of the European People's Party Group at the Council of Europe.
On 9 July 2019 he was appointed Alternate Minister of Foreign Affairs for European affairs.