Natassa Spagadorou
Journalist, CNN Greece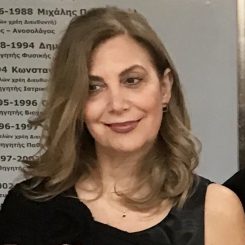 Natassa N. Spagadorou, is a freelancer journalist of CNN GR, since June 2018.
From September 2013 till May 2018, she worked at the medical website onMed as a journalist and communication consultant. 
She had a collaboration with the Fortune magazine in Greece for a couple of years.
For 28 years, she worked for the daily financial newspaper KERDOS- 1985 till March 2014, covering many and different reports- of the Ministries of Commerce (1988-1992), Industry (current Development 1992-1997) and Health (1997 till now). From 2006 to March 2014, she was responsible for a weekly special edition into KERDOS, MED & BUSINESS.
In parallel with KERDOS, in the period 1985-1999 she worked in the financial magazine of KERDOS "AGORA".
In the period 1993-1997 she worked in the financial monthly magazines "GREEK FORUM" AND "VIOMICHANIKI EPITHEORISI".
In 1989 she worked in the weekly newspaper of Alekos Filippopoulos called "JOURNALIST".
In the period 1990-1999 she worked in the "SUNDAY – KYRIAKATIKI ELEFTHEROTYPIA", one of the biggest and wellknown Greek newspapers, and she was responsible for the Sunday column "People and Businesses".
From 1998 until today she has participated in numerous conferences, pharmaceuticals, health, environment and finance as a coordinator.
In 2012 she participated in the Greek Working Group of the Pan-European Program "Fit for Work" with the aim of contributing to the improvement of people with rheumatic diseases and other myosceletical disorders.
From 1983-1985 she studied at the Higher School of Journalism (Professional Journalism Laboratory) while she has attended Professional Seminars in Political Economy and Media.
She speaks English and Italian. She is a regular member of ESIEA, the Union of Greek Journalists.