Nicholas Yatromanolakis
Deputy Minister of Culture and Sports, Hellenic Republic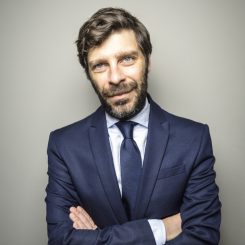 Nicholas Yatromanolakis was born in Athens in 1975. He holds a BA in Political Science & International Relations from Panteion University, Athens, and a Master in Public Policy from Harvard University's John F. Kennedy School of Government in the US. 
In January 2021, he was appointed Deputy Minister of Culture and Sports, responsible for Contemporary Culture, while he had served as General Secretary of Contemporary Culture, since August 2019.  
Between January 2017 – July 2019 he served as Chief Marketing & Communication Officer of the Stavros Niarchos Foundation Cultural Center. He has served in various senior positions in Greek and multinational companies such as Microsoft, V+O Communication, S&B Industrial Minerals and Alpha TV, as well as at the Hellenic Foundation of European & Foreign Policy (ELIAMEP) and Harvard University. He's also worked as an independent strategy, public affairs and communication consultant. His work has received several awards in Greece and abroad.
He was a founding member and a Steering Committee member of the Potami political party, as well as the party's campaign manager for the 2014 European Parliament elections. In the January 2015 parliamentary elections he ranked second among the party's candidates in the City of Athens district. He left Potami in 2016.
He's been active in the field of human rights, focusing on LGBTQI+ rights. He's participated voluntarily in nonprofit organizations focusing on the social inclusion of vulnerable populations, as well as the mental and physical health of children.
He is a 2013 Marshall Memorial Fellow. In 2019 he was elected member of the Board of Directors of the Harvard Club of Greece.
He has edited several publications, including New Approaches to Balkan Studies, ed. Dimitris Keridis, Ellen Elias Bursac and Nicholas Yatromanolakis (Dulles, VA: Brassey's 2003). He contributed to the World Economic Forum's 2001 Global Competitiveness Report. He was the scientific editor of the Greek version of the NATO Handbook, and ELIAMEP's occasional papers and publications editor in 1996-98.