Panos Sakellaropoulos
Chairman of the Economic Committee & Deputy Regional Head of Economic Policy and Financial Control of the Region of Western Greece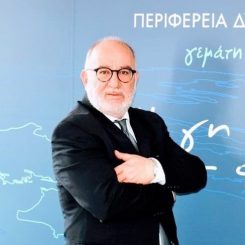 Panos Sakellaropoulos is Chairman of the Economic Committee and Deputy Regional Head of Economic Policy and Financial Control of the Region of Western Greece.
He originates from the area Peristera  of ​​Nonakrida of the Municipality of Akrata and lives permanently in Patras. He is married to Mrs. Lamprini Pliakoura, Aesthetician and Business Executive
 He was elected in the Regional Elections for the third time in 2019 with the combination of Nektarios Farmakis  "OLA APO THN ARXH", having achieved first place in the previous two.
He is an executive in the Independent Public Expenditure Authority (AADE) -Ministry of Finance.
His studies concern the Marketing – Management and the European and Greek Culture of the Hellenic Open University.
Has served:
Director of the offices of New Democracy MP of the Prefecture of Achaia, Mr. Andrea Katsanioti.

Special Associate of New Democracy MP of the Prefecture of Etoloakarnania, Mr Costas Karagounis (Former Minister and Deputy Head of the Ministry of Justice, Transparency and Human Rights). 

Advisor at the Central Office for the Ministry of Finance – Offices  Deputy Minister of Finance Antonios Bezas and of Deputy Minister of Finance Adam. Regkouza.

Director at the offices of New Democracy MP of the Prefecture of Achaia, Nikolaos I. Nikolopoulos.

Employee at the Hellenic Parliament 
He has worked in companies in the private sector, with responsibility for the sales sector  since 1982 and Sales Manager of S.W. Greece in the company UNITED DISTILLERS BUTARI.
He has a rich social, trade union and political activity, while among others he has been elected:
Vice President of the Committees of Environment and Natural Resources, as well as Vice President of the Development and Social Policy Committee of the Regional Council of Western Greece.

 Vice President of the Regional Council of Western Greece.

President of DAKE Tax Office and General Secretary of the Association of Tax Office Employees Achaia – Ilia – Zakynthos and Kefallinia.

Member of the Union of Regions of Greece.

 Member of NODE Achaia

President of the Cultural Association of the Former Municipality of Nonakrida, establishing the successful "BEAN FESTIVAL" which has been held every year since then.
He is also an active member of the Association of Social Welfare and Perception.
His interests in addition to his involvement with the public, include music, theater, hunting, mountaineering, chess, reading, horseback riding and football.