Pantelis Nikolaidis
Advisor to the General Secretary of Interior & Organization, Coordinator of the ReBrain-Western Greece Initiative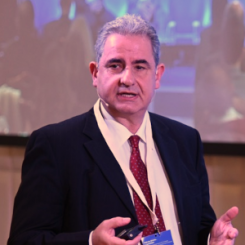 Pantelis Nikolaidis is Advisor to the General Secretary of Interior & Organization of Ministry of Interior. He holds a PhD from the University of Peloponnese in the field of Digital Literacy and Digital Skills and he has been the Coordinator of the Digital Skills and Jobs National Coalition and Coordinator of the Women & Girls Go Digital Initiative. He is national representative and expert working groups at the European Commission, OECD and UN in the areas of Digital Transformation and Human Resource Development.
In the past, he was an official of the Ministry of Education and the Institute of Educational Policy in the areas of Digital Education and European Education Policy, while he worked for the National Center for Public Administration as Educational and Research Coordinator & Quality inspector of the educational programs.
Until 2000 he worked for the private sector as Territory Manager at Oracle Hellas and Project Manager of R&D Programs at IT companies.