Petros Tatsopoulos
Author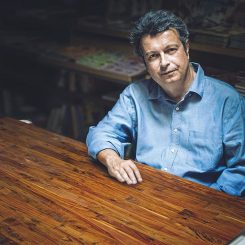 Petros Tatsopoulos was born in Rethymno, Crete, in December 1959. He grew up in Athens. He studied economics and political science. He worked as a trainee social worker, co-screenwriter for A foolish love (1981) by George Panousopoulos and Underground Passage (1983) by Apostolos Doxiadis, as well as journalist, book reviewer, publishing consultant and presenter of the cultural programs on public and private television Spirit of Controversy (ET1, 1999-2000), Great Greeks-Eleftherios Venizelos (SKAI, 2009), 1821 (SKAI, 2011), and Bras de Fer (Action 24, 2014).
Together with celebrated Greek writers Kostas Mourselas, Giorgos Skourtis and Antonis Sourounis he took part in writing the novel The Game of Four (1998). He has published twenty-one books, including The minors (1980), The painkiller (1982), The heart of the beast (1987 – with a film adaptation released by Renos Ηaralambidis in 2005), The first appearance (1994), Honoris Causa (2004), The kindness of strangers ( 2006), Modern Greeks (2007), Sisyphus on the balcony (2009 – Athens Academy Award), The book about books (2010), Gagarin (2016), The lady feels compassion (2018), In Your Face (2019).
Some of his short stories and novels have been translated into English, French, German, Turkish and Czech. He was member of the board of the Writers' Society from 2001-2003, chaired at the time by Vassilis Vassilikos, and he served briefly as vice president of the National Book Centre in 2010. He served as member of the Greek Parliament (2012-2015) as well as the Greek parliamentary delegation at the Council of Europe Parliamentary Assembly (2012-2013). He has two children, Giannis and Danae.