Meet our RGC 2023 speakers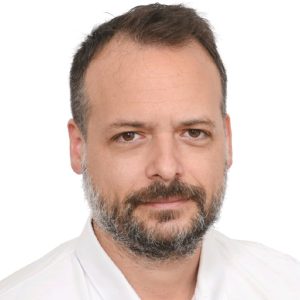 Associate Professor, National Technical University of Athens
Dr. Haris Doukas is an Associate Professor at the School of Electrical & Computer Engineering (ECE) of the National Technical University of Athens (NTUA). He is a mechanical engineer from the Aristotle University of Thessaloniki (AUTH), with a PhD in the area of decision support systems for energy policy and management, from the ECE, NTUA. His scientific and research expertise includes the development of decision support systems for energy and climate policy. He has almost 2 decades of working experience in the design of energy and climate policies and programs for the promotion of renewables, energy efficiency and management in a regional, national and European level. Moreover, he participates as a specialist in respective initiatives beyond Europe, such as the countries of the Mediterranean basin and the Arab states of the Gulf. In the abovementioned fields, he has more than 120 scientific publications in international scientific journals with reviewers, the Greek Book "Multiple Criteria Decision Models for Energy and Environmental Systems", the open access Book as co-Editor "Understanding Risks and Uncertainties in Energy and Climate Policy: Multidisciplinary Methods and Tools for a Low Carbon Society", the English Book "Multicriteria Portfolio Construction with Python", as well as numerous presentations in international conferences, chapters in Books, articles in technical magazines and daily and weekly press. Finally, Dr. Doukas is an Associate Editor of the Operational Research International Journal (ORIJ) and participates as member of the scientific journals' Editorial Board in the areas of energy policy and operational research. For his work, Dr. Doukas has received numerous awards by the State Scholarship Foundation (IKY), the NTUA, the AUTH, the Technical Chamber of Greece (TCG), the Hellenic Operational Research Society (HELORS) and the World Renewable Energy Congress (WREC) among others.
Sign up to our newsletter
Sign up and keep up to date with the latest news & articles of the conference.