Meet our RGC 2023 speakers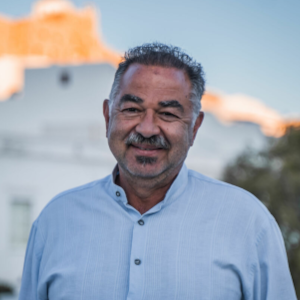 Nikolaos (Nikos) Komineas was born in August 1956 in Naoussa, Western Macedonia and is the father of four children. He studied at the School of Civil Engineering of the National and Metsovian Technical University and completed his postgraduate studies in Paris in urban psychology. His academic activities brought him to Astypalaia in the early 1980s in order to analyze the way of life in island settlements. He fell in love with the island and decided to establish himself professionally and socially in Astypalaia. Inspired by the principles of ecology and sustainability as well as social justice and with a sincere respect for cultural heritage and tradition, he soon found himself involved in local politics advocating for the sustainable and resilient development of the island. A vision of local development that preserves the traditions and unique character of the island by leveraging technological proposals to enhance the livelihoods of the islanders and create a truly sustainable destination for the island's cities. He assumed his duties as Mayor of Astypalaia in September 2019 and since then has devoted all his energy to guiding the island on a path of sustainable development. In the last year, he has brought the island to the global spotlight as a living laboratory of sustainable mobility and clean energy while actively collaborating with Volkswagen and the Hellenic Republic in the framework of the "Astypalea Smart & Sustainable Island" project.
Sign up to our newsletter
Sign up and keep up to date with the latest news & articles of the conference.