Meet our RGC 2023 speakers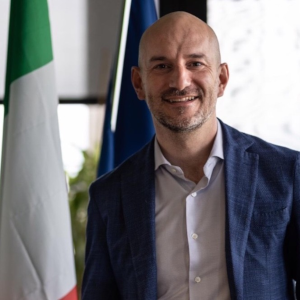 Regional Minister of EU affairs, Emilia Romagna
He was born in 1978 in Colleferro (Rome) and lives in Ferrara. Graduated from the University of Ferrara in Economics of Public Administrations and International Institutions, he obtained a master's degree in "Improvement of the PERFORMANCE of Territorial Authorities and other Public Administrations" at the Department of Economics and Management of the same university. He collaborated as a researcher with the Antares Center (Centre for economic research, industrial and territorial policy) and the Ciras Center (International Center for Research on Environment and Development). In 1999, at the age of 21, he was councilor for the budget and deputy mayor of the municipality of Ostellato (Fe), and in 2004 he was elected mayor of Ostellato. In 2009 he was provincial councilor in Ferrara and from 2009 to 2015 he held the position of provincial secretary of the Democratic Party and coordinator of the provincial secretaries of Emilia-Romagna. In November 2014 he was elected regional councilor of Emilia-Romagna and until April 2015 he was president of the PD Group. During the X legislature he was a member of Commission I (Budget, general and institutional affairs), of Commission IV (Health policies and social policies), of the Special Commission for research and study on so-called spurious or fictitious cooperatives and of the Commission special investigation into the child protection system in the Emilia-Romagna Region. From May 2015 to December 2021 he held the position of regional secretary of the Democratic Party of Emilia-Romagna. On 28 February 2020 he was appointed Councilor for the budget, personnel, assets, institutional reorganization of the Emilia-Romagna Region. On 5 May 2021 he was designated by the Conference of the Presidents of the Regions as a member of the National Conference for the coordination of public finance. In July 2021 he was appointed by the Minister of Economy, Director of Cassa depositi e prestiti representing the Italian Regions.
Sign up to our newsletter
Sign up and keep up to date with the latest news & articles of the conference.