Meet our RGC 2023 speakers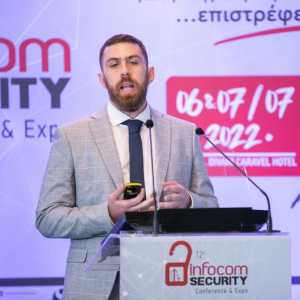 CyberSecurity Solutions Consultant for Space Hellas
Dimitris Tsaktsiras, has received a Bachelor of Science (B.Sc.) degree, in Applied Mathematical and Physical Sciences, from the National Technical University of Athens and Master of Science (M.Sc.) degree, in Digital Systems Security, from the University of Piraeus. In February 2020, he accepted the Cybersecurity Solutions Consultant's position at Space Hellas S.A., being responsible for providing pre-sales support to customers, designing cybersecurity solutions, highlighting new trends in technologies and products. He has designed and worked successfully on several projects in different aspects of Cybersecurity, like Data Loss Prevention (DLP), Privileged Access Management, Mobile Device Management (MDM), Secure Access for Organization in Greece and abroad. Apart from Space Hellas Mr. Tsaktsiras, has worked for Algosystems as Principal Cybersecurity Architect and Adacom as a Security Engineer.
Sign up to our newsletter
Sign up and keep up to date with the latest news & articles of the conference.