Meet our RGC 2023 speakers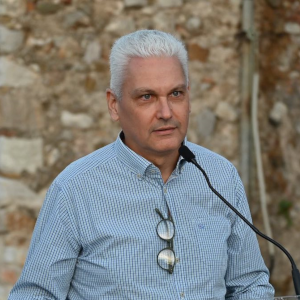 Deputy Governor of Entrepreneurship Research & Innovation Region of Western Greece
Fokion A. Zaimis, is the Deputy Governor of Enterpreneurship, Research and Innovation in the Region of Western Greece. His main tasks are the support of Businesses in the RWG as well as the Research and Innovation initiatives. He is leading the initiative for the Tripoli-Patras Gas pipeline as well as a series of Bilater projects in the Interreg program and major regional construction and services projects.  He is v.president in the CPMR Intermeditarranean
Commission and member of the CPMR Balkan and Black Sea Commission. He represents the RWG in several bodies like the Kalavryta Ski Company, the Autodrome project, Achaiki Leader, VIOPA Industrial Park etc.
Previously he was the President of the Board of Directors and one of the founding partners of iForce Communications, S.A. www.iforce.gr, located in Athens, Greece. iForce is a corporate communication, advertisement and event organizer company. He is also a Founding Member and General Secretary of the Institute of Development of Western Greece (www.inade.gr). He also founded Kerpini Publications in 2009. He was also one of the founding members of the Greek 'Silicon Valley' project known as the Acropolis Information Technology Park. He was the fisrt CEO and General Manager of this company in Athens, www.acropolispark.gr , Greece.  Prior, he was for more than five years the General Manager of the Federation of Hellenic Information and Communications Technology Enterprises – S.E.P.E. www.sepe.gr,   He lobyyied successfully for bringing the World Congress on Information Technology to Athens, Greece – W.C.I.T. 2004 Athens www.worldcongerss2000.org – His professional dialogue included the World Information Technology Services Alliance – W.I.T.S.A. www.witsa.org ,  located in the U.S., the Greek Government, the Athens Municipality and other distinguished bodies.  Additionally, his professional experience includes work with European Commission – Directorate General XVII, in Brussels, responsible for the Marketing Depertment for Talos Engineering S.A, and Lieutenant Officer of Finance of the Hellenic Air Force.
He holds a M.Sc. from the University of Patras, School of Sciences, Department of Geology, Patras, Greece and attended Athens University of Economics and Business MBA program for one year. 

Mr. Zaimis was also an IT Advisor to the Mayor of Athens and member of the Board of Directors of the IT Company of the City of Athens www.daem.gr , a Member of the Board of Directors of the Union of Correspondents of Greek Press Abroad, a Member of the Geotechnical Chamber of Greece, and a member of the Hellenic Society for the Preservetion of the Hellenic Culture and Environment www.ellinikietairia.gr . He is the writer of many articles in magazines and newspapers mainly for the new economy and cultural issues. He has coordinated more than 150 events and conferences mainly on financial, social, environmental and cultural issues. He is fluent in Greek, English and French
Sign up to our newsletter
Sign up and keep up to date with the latest news & articles of the conference.