Meet our RGC 2023 speakers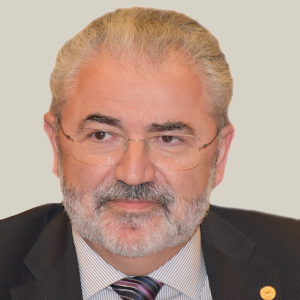 Professor, Department of Planning & Regional Development, University of Thessaly
George Petrakos is an economist and professor at the Department of Planning and Regional Development, University of Thessaly. He has published widely in the fields of urban and regional development, structural change, integration and regional policy. He holds an M.Sc. and a Ph.D. degree in Economics from Arizona State University (USA) and has a research and publication record that includes more than 25 books and edited volumes and about 200 articles in journals and books. Journals include Regional Studies, Annals of Regional Science, Environment and Planning, Papers in Regional Science, Cambridge Journal of Regions Economy and Society, International Regional Science Review, European Urban and Regional Studies, European Planning Studies, Journal of Economic Studies, Growth and Change, etc. He has a long experience and participation in domestic and European research projects (more than 20 EU projects) with a total budget that exceeds 10 million euros. Recent experience includes the ESSPIN and RELOCAL Horizon projects, the IRE ESPON project, advisory (a) to OECD on the Territorial review of Greece 2020, (b) to EC for the Ex post evaluation of the ERDF SME Support programs in the 2014-2020, (c) to the Managing Authority of Thessaly for the design the Regional Operational Program of the Programming Period 2021-27, (d) to the Managing Authority of the ROP of Crete for the improvement of the territorial governance of the INTERREG MED Program, (e) to Energy- dependent Municipalities in their way to a smooth transition in the post-lignite period, and (f) preparation of a Reconstruction Plan for the Prefecture of Ilia. He is presently the Director of the Development Policy Laboratory, University of Thessaly, since 2021, the Director of the Confucius Institute, jointly established by the University of Thessaly and the Central University of Finance and Economics (Beijing) since 2019. He has served as European Research Council (ERC) Expert participating in the evaluation of Starting Grant (2022), Visiting Professor, London School of Economics and Political Sciences, Department of Geography and Environment (2019), the Rector of the University of Thessaly (2014-18), Secretary General for Investment and Development in the Ministry of Development, (2010-12), President of the JESSICA and JEREMIE Investment Funds (2010-12) and Vice-President of the European Regional Science Association (ERSA) (2007-11).
Sign up to our newsletter
Sign up and keep up to date with the latest news & articles of the conference.