Meet our RGC 2023 speakers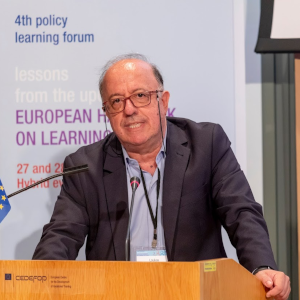 Head of Department for VET and Qualifications at Cedefop
Dr Loukas Zahilas is currently Head of the Department for Vocational Education & Training and Qualifications (DVQ) at Cedefop, the European Centre for the Development of Vocational Training. He studied Chemistry and Information Technologies and he has a PhD in educational policies (qualifications frameworks).  After a six-year stint in the pharmaceutical industry, he has concentrated his efforts entirely on education and training. His more than 32 years of professional experience in education and training were mainly acquired at the Greek Ministry of Education, the University of Athens and Cedefop. He worked in VET schools and Institutes, the University of Athens and in 1994 he joined the Greek Ministry of Education/ Organisation for VET. He served there for many years at various managerial posts representing Greece in EU bodies and groups like the Directors General for VET, the Advisory Committee for VET, and the ETF Governing Board. He has also served as National Europass Coordinator and National Liaison Officer for the Study Visits Programme and participated in various EU Working Groups like the EQF Advisory Group and the Credit Transfer WG. Loukas Zahilas joined Cedefop in 2006 working initially as a senior expert on qualifications and the common EU tools and as of 2014 he is Head of the Department for VET and Qualifications. Currently he is a member of Cedefop's management team. His department's work is based on research and analyses and provides evidence on policy developments and implementation as well as advice and support at European level. It covers the Cedefop strategic area of 'Shaping VET and Qualifications' aiming at improving the overall transparency, relevance, quality and inclusiveness of VET by facilitating close interaction between initial VET, continuous VET and general and higher education to serve the skills needs of all age groups at all levels. This work promotes structured lifelong and life-wide learning by strengthening institutional structures, inclusive governance and by ensuring that the content is continuously updated and reflected in qualifications, credentials and curricula.
Sign up to our newsletter
Sign up and keep up to date with the latest news & articles of the conference.