Meet our RGC 2023 speakers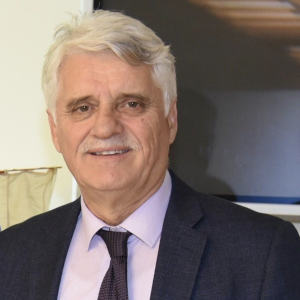 Major of West Achaia, Municipality of West Achaia
Spyros N. Mylonas was born in Pournari of the wider Municipality of West Achaia, in 1953 to farmer parents Nikos and Giannoula Mylonas.
From his early childhood years, he experienced the sheer value of social and civic participation, as his father acted as president of the local community of Myrtos, president of the cooperative, representative and member of the association of cooperatives of Patras, for several years.
 He is a Graduate of the department of Mechanical Engineering from the University of Patras and has completed his postgraduate studies in Economics and Business Administration and Leadership. He has attended numerous scientific seminars in Business Leadership, Business Administration and Computer Sciences. He speaks English and has a certificate of English fluency from the University of Cambridge, in England.
 He worked as a freelance Mechanical/Electrical Engineer, as a TEI (Technological Educational Institute) professor and held a director's position at PPC/DEDDIE (The Public Power Corporation of Greece) for more than 25 years. During this endeavour, he was leading his sector providing the most demanding services. He has also served in the lignite mines of Kozani and Megalopolis. He later undertook his role within the Distribution department, completing, by all accounts, an excellent career as the longest-serving Regional Governor and Director of PPC /DEDDIE.
 From this position, in which he received wider public recognition for his service, he retired, in order to claim the office of Mayor in the Municipality of Western Achaia, during the municipal elections in May 2019. He was also the president of the Parents' and Guardians' association, in Megalopolis.
 In 2010, he was elected as the first Municipal Councilor as part of Andreas Panagiotopoulos' political party, in the Municipality of Western Achaia. During the years of the Greek financial recession, he acted as the spearhead of the party's attempts to support various Organisations and those in need.
 For twelve years he was a football player for "Leontas Alissos" F.C. and for "Ethnikos Sagaiikon" F.C.
 He is married to Maria Margaritopoulou and they have three children, Nikos (Dipl. Mechanical Engineer), George, (MA in Advertising, University of the Arts, London), and Ioanna, (BSc. School of Philosophy, in Patras University).
 He is personally involved in Agriculture by tending his family land, and loves theatre, singing, dancing, reading and travelling. He likes good wine and often organises music nights playing bouzouki to entertain his friends.
 He is a pure advocate of peace and environmental protection and a friend of Greenpeace. He loves his family and his friends and despises lies and populism. 
 He is a true believer of continuous investment in education and encourages young people to have an active participation in socio-political life. He envisions a cohesive society of values and principles based on justice and meritocracy.
Sign up to our newsletter
Sign up and keep up to date with the latest news & articles of the conference.