Meet our RGC 2023 speakers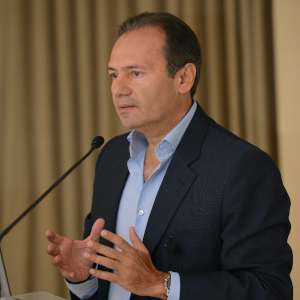 Vice President of ELPEN Pharmaceutical and CO-CEO of ELPEN Group
Theodore E. Tryfon was born in Mytilini – Lesvos. He graduated from Athens College of Greece and earned his BSc in Economics and Business Administration from the University of Southampton in UK. He continued his studies by earning an MBA from City University of London Business School. In 1992 he joined Elpen Pharmaceutical Co. and presently is the Vice President and co/CEO of ELPEN Group. ELPEN Group has a turnover of €300,000,000 in 2021 and employees a workforce of over 1350. With three already established production units at Pikermi, Attikis, ELPEN is opening a new 12,000 m2 production line in Keratea, Attikis which will be operational in November 2022 and has mainly an export orientation. ELPEN holds a leading position in the pharmaceutical market, exporting to over 40 countries and has the largest Research, Training and Experimental Center of the Greek Pharmaceutical Industry. Since 2014, Mr. Tryfon has been elected as President of the Panhellenic Union of Pharmaceutical Industries (PEF), an association which represents 49 companies with 45 production sites throughout Greece. In 2019 he became a Member of the Board of the Hellenic Federation of Enterprises (SEV) as well as a Member of the Board of Directors of Medicines for Europe, the European Association representing the European Generic and Value Added Medicines Industry.
Sign up to our newsletter
Sign up and keep up to date with the latest news & articles of the conference.