Sokratis Anagnostou
CEO, Volos Port Authority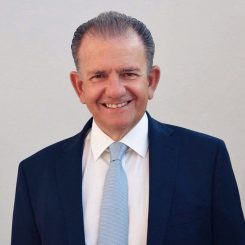 Sokratis Anagnostou has been serving as the Chief Executive Officer of the Volos Port Authority since 1st October 2019. He had been appointed as Vice President of the same organization between May 2014 to October 2015.
Sokratis started his career at the Technical Services Dapartment of Magnesia being almost exclusively associated with port projects construction and expansion within the region, including the adjacent islands of Sporades. He was later employed by the University of Thessaly, as Head
 of Planning, Design and Construction within the Technical Services Division while promoted to Director a few years later.
Socratis was a member of the Board of Directors of Surveyors, the Central Representation of the Technical Chamber of Greece (TEE) the local delegation of TEE Magnesia and  member of the Board of Directors of the Panhellenic Association of Civil Engineers. Between 2000 to 2002, he was elected in the Central Board of Directors of TEE and afterwords for 10 years he served as President of TEE Magnesia.
Since the beginning, until 2010 he was a member in the Organisation Committee of the Mediterranean Games of Volos 2013.
Sokratis Anagnostou was born in Volos and studied at the Engeering School of Aristotle University in Thessaloniki, where he obtained a MEng in Agricultural Surveying and a MEng in Civil Engineering.