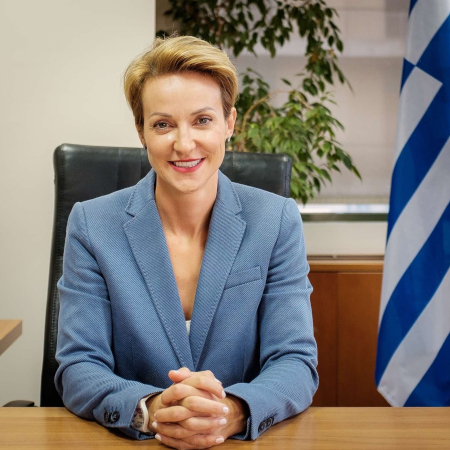 Secretary General for Energy & Mineral Resources
Alexandra Sdoukou is a lawyer, permanent employee at the Management Organisation Unit of Development Programmes (MOU S.A.) under the Ministry of Economy and Development. Since 2004, she is working as legal advisor in the public administration in various positions at the Ministries of Economy, Development and Environment, Energy & Climate Change.

She has been specialised as energy policymaker, working with all Energy Ministers from 2007 to 2015. From 2012 to 2015, she was Head of Cabinet at the Minister of Environment, Energy & Climate Change, competent to develop policy formulation, implementation and monitoring on a wide range of energy and environmental projects.

From October 2017, she was Advisor to the President of Nea Dimokratia on energy and natural resources.

Alexandra holds a Bachelor of Law degree from Democritus University of Thrace, a Master's Degree LLM in European Commercial Law from the University of Bristol U.K., and a M.Sc. in International & Economic studies from the Athens University of Economics & Business.