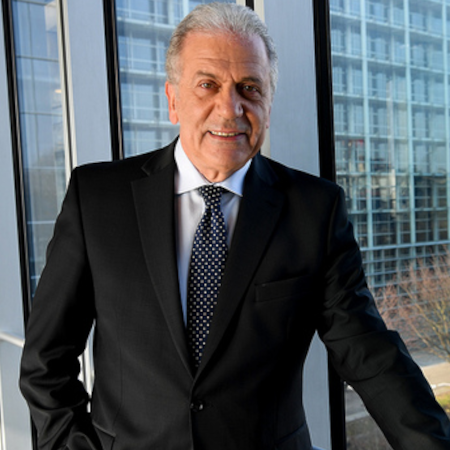 fmr European Commissioner for Migration and Home Affairs & Foreign Minister of Greece
Dimitris Avramopoulos was the European Commissioner for Migration, Home Affairs and Citizenship since November 2014. Before becoming European Commissioner, Mr. Avramopoulos was Minister of National Defence of Greece (two terms), Minister of Foreign Affairs, Minister of Tourism Development, Minister of Health and Social Solidarity and Mayor of Athens (two terms). He was elected Member of the Parliament several times with the "New Democracy" party (1993, 2004, 2007, 2009 and 2012). 
Mr. Avramopoulos served in the Diplomatic Service of Greece from 1980 until 1993. He was Spokesman of the Ministry of Foreign Affairs, Director of the Diplomatic Cabinet of the Greek Prime Minister and Consul of Greece in Liège (Belgium) and in Geneva (Switzerland). 
Mr. Avramopoulos completed his studies at the Faculty of Law and Political Sciences at the University of Athens and his postgraduate studies at the Institute of European Studies – Université libre de Bruxelles (ULB). He is Honorary Professor of Peking University (Beijing) and European College of Parma (Italy). He is Honorary Doctor of ADELPHI University (New York), DREXEL University (Philadelphia), KINGSTON University and DEREE College (Athens).
Mr. Avramopoulos has been bestowed awards and state decorations from many countries: Austria, Belgium, Bulgaria, Cyprus, Estonia, Finland, France, Germany, Greece, Kazakhstan, Luxembourg, Malta, Poland, Portugal, Spain, Sweden, Vatican, Venezuela, Yugoslavia and Lebanon. 
He is married to Vivian and has two sons, Filippos and Iasonas.