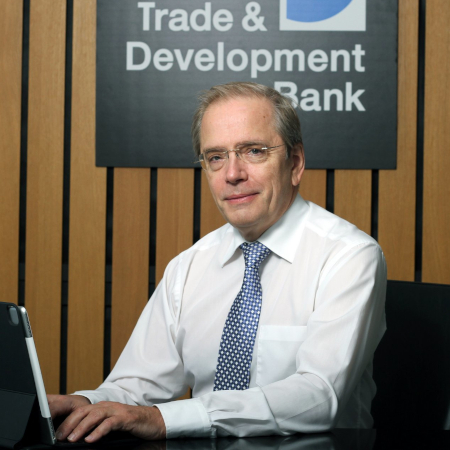 President, Black Sea Trade and Development Bank (BSTDB)
Mr. Dmitry Pankin was appointed President of the Black Sea Trade and Development Bank (BSTDB) as of 16 July 2018, for a period of four years.
Mr. Pankin is a Russian national, born in 1957. He graduated from the Economic Faculty of St. Petersburg State University and holds a PhD degree in Economics. He has also completed professional development courses at Bocconi University in Milan and at the City University Business School in London.
In 1990-1995, Dmitry Pankin was Deputy Head of Financial Committee at the St. Petersburg Mayor's office. In 1995-2003, he was Chairman of the Board at the St. Petersburg Bank for Reconstruction and Development. In 1999-2000, he headed Treasury Department at the Unified Energy System of Russia, the national electric power holding company. In 2004 Mr. Pankin joined the Department of International Financial Relations, Public Debt and Public Financial Assets at the Ministry of Finance of the Russian Federation and held progressively more responsible positions before becoming Deputy Minister of Finance in 2008. In 2011-2013, he headed the Federal Financial Markets Service of the Russian Federation. Mr. Pankin was reappointed Deputy Minister of Finance in 2013 and also became the Governor for the Russian Federation at BSTDB, until he took the position of Chairman of the Management Board of the Eurasian Development Bank in 2015, where he worked until the end of 2017. 
Mr. Pankin speaks Russian and English. 
He is married and has a daughter.