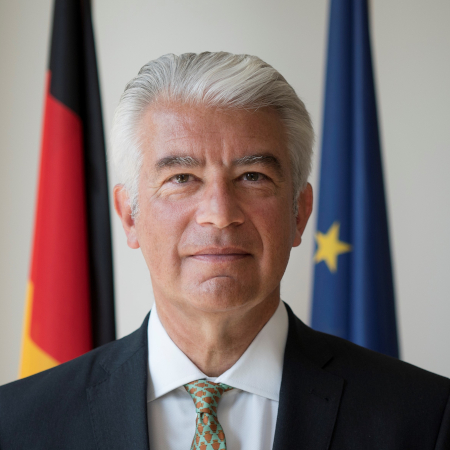 Ambassador of the Federal Republic of Germany to Greece
He holds a Doctorate in Law from the University of Bonn and joined the
German Foreign Office in 1988. Since then, he has worked at the
Consulate General St. Petersburg (1990), was Political Desk Officer for
Russia at the German Foreign Office (1992), and held positions at the
Permanent Representation to the United Nations, New York (1996), and
the International Law Division in Bonn (1999). He became Deputy Head of
Division for EU Policy and Institutional Issues in 2000, followed by the
position of Deputy Director of the Private Office of NATO Secretary
General in 2003. He was appointed Head of Division for Russia, Ukraine,
Belarus, Moldova and Eastern Partnership in 2007. After that, he became
Ambassador in Pristina (2011), followed by the position of the Foreign
Office Special Envoy for South-Eastern Europe, Turkey and the EFTA States
(2013). Before his assignment in Athens, he was Ambassador in Kyiv
(2016-2019). Ernst Reichel was born in 1960 in Lagos, Nigeria; he is
married and has two daughters.